Retail Members
The following stores are currently Retail Members of the Knitters' Guild of NSW:
24 Mile Hollow Yarn
Indie dyed yarns and top - bases sourced from Australian Suppliers.
Dyed using low impact acid dyes and a mix of immersion, dip dyeing and steaming.
Yarn and top can be purchased online or from selected yarn stores.
Contact: This email address is being protected from spambots. You need JavaScript enabled to view it.
Website: www.24milehollowyarnco.com.au
Instagram: instagram.com/24milehollowyarnco
Ravelry: www.ravelry.com/yarns/brands/the-24-mile-hollow-yarn-co
---
Adagio Mills
1/58 Lords Place
Orange NSW 2800
Ph: (02) 6362 4679
Mob: 0422 425 424

Contact: This email address is being protected from spambots. You need JavaScript enabled to view it.
Website: http://shop.adagiomills.com.au
Facebook: www.facebook.com/adagioalpacamills
Instagram: www.instagram.com/adagiomills
Locally made yarn from locally grown fibre. Processing 100% alpaca yarn and garments, from raw fibre to finished garment all under one roof! - 100% Australian made
---
Australian Alpaca Yarn / Alpaca Ultimate
Ph: (02) 6227 3158
Mobile: 0429 783 575 or 0427 455 633
Email: This email address is being protected from spambots. You need JavaScript enabled to view it.
www.australianalpacayarn.com.au
Australian Alpaca Yarn produces 100% Australian Alpaca Yarn from fleece from their own alpacas and from fleece purchased from the best producers throughout Australia. Our yarn is processed in New Zealand and comprises 1ply - 70% Alpaca/30% Silk, 2, 4 and 8 plys – 100% Alpaca and we have a Boucle range. Our yarn is available in 50gram balls and also on cones. Contact us for a complementary Shade Card.
---
The Australian Wool Store

The Australian Wool Store is a boutique business that specialises in beautiful, unique hand dyed yarn.
Kathryn is the creator of colour and can be found most days in her dye studio on her 5-acre property at Castlereagh. The Australian Wool Store is an internet-based business but Kathryn and her yarn can be found at many face to face events throughout the year – check the website for details.
Kathryn opens her dye studio once a month for a fun night of knitting, crocheting, eating, drinking and laughter – get in touch on Facebook for details. While you're on Facebook, join The Yarn Society which is a fun and friendly space for you to share pictures of your yarny projects made using The Australian Wool Store yarn.
Want to join The Australian Wool Store in Japan? Check the website for details.
Website: theaustralianwoolstore.com
Facebook: www.facebook.com/theaustralianwoolstore
Instagram:www.instagram.com/theaustralianwoolstore
Contact: This email address is being protected from spambots. You need JavaScript enabled to view it.
Mobile: 0408880441
---
Batik Oetoro
Selling colour since 1972.
Textile dyes and fabric paints and all sorts of related product to get colour in and onto yarns and fabrics and textiles.Tie dye, screen printing, batik, chemicals, block printing, natural dyes, indigo, marbling, devore, shibori, workshops, kits, instructions and assistance, and so much more...

Unit 3 / 11 Nevin Close
Gateshead NSW 2290
Phone: 02 4943 8808
Hours: Tuesday - Thursday 9am to 4pm. All other times by appointment.
Mail order: Anywhere in Australia, and internationally as well.
Contact: This email address is being protected from spambots. You need JavaScript enabled to view it.
Website: www.dyeman.com
Instagram: www.instagram.com/dyewoman
---
Beadoodads
Beadoodads is a shop devoted to creating tools for yarn lovers. Specializing in stitch markers and progress keepers, I offer a range of markers to suit all tastes and to keep them affordable. There are around 90 different ones on offer! Most markers come with options of large or small nylon coated wire loops, rings or lobster clasps. You choose which ones you prefer. There are also some other knitting and travel kits in the shop as well. Come and have a look!

.
Contact: This email address is being protected from spambots. You need JavaScript enabled to view it.
Website: etsy.com/au/shop/beadoodads


---
Bendigo Woollen Mills Pty Ltd
4 Lansell Street
Bendigo VIC 3550
Ph: (03) 5442 4600
Fax: (03) 5442 2918
Email: This email address is being protected from spambots. You need JavaScript enabled to view it.
website: www.bendigowoollenmills.com.au
Manufacture and sales of quality knitting yarn. Direct to public sales of knitting yarns from 2 - 12ply, on cones, in hanks and balls. Extensive mail order service. Contact for free shade cards.
---
By Carola Down Under
Erika Sialer
Ph: 0439 367 127

Contact: This email address is being protected from spambots. You need JavaScript enabled to view it.
Facebook: www.facebook.com/bycaroladownunder
Etsy: www.etsy.com/uk/shop/ByCarolaDownUnder
By Carola Down Under focuses on hand spun yarns, blend batts and botanical dying, using plants, roots, leaves, flowers, peels, fruits and other objects found in nature. This brings to life small batches of naturally coloured skeins, a unique outcome that cannot be reproduced and that gives fibres a special and distinctive finish.
---
Convent and Chapel Wool Shop

Convent & Chapel Wool Shop offers a curated collection of top independent international and Australian artisan yarns.
Quality brands include Hedgehog Fibres, Three Irish GIrls, Qing, MadelineTosh, Hand Maiden, Fiber Lily and Ozifarmer's plus many more.
Coveted yarns in an idyllic rural setting.
Bricks and mortar store as well as online.
Bridge View Inn
28-30 Louee Street
Rylstone, NSW 2849
Phone: 0409 564 747
Contact: This email address is being protected from spambots. You need JavaScript enabled to view it.
Website: www.conventandchapelwool.com.au
Facebook: www.facebook.com/conventandchapelwoolshop
Instagram: www.instagram.com/conventandchapel
---
Crafty Frog
Crafty Frog is a true One-stop Shop for a variety of Handcrafts. We stock a huge range of Knitting/Crochet Yarns, Spinning, Weaving, Embroidery, Cross Stitch supplies and accessories from the bare essentials through to specialty and hard to find items. You won't be disappointed.

Shop 4/107 Marconi Crescent
Kambah ACT 2902
Phone: +61 2 6296 6240

Contact: craftyfrog.com.au/form/contact-us
Website: www.craftyfrog.com.au
Facebook: www.facebook.com/CraftyFrog
Instagram: www.instagram.com/craftyfrog.com.au
---
Fibre Arts Shed

We sell raw materials and tools to fibre artists, including hand-dyed BFL, Merino, Superwash & silk. We also sell camel, yak and alpaca luxury fibre blends.
5 The Knoll
Jilliby NSW 2259 (by appointment)
Mob: 0422 160 506 (Clare)
Contact: This email address is being protected from spambots. You need JavaScript enabled to view it.
Website: www.fibreartsshed.com.au
Facebook: www.facebook.com/feltfine
Instagram: www.instagram.com/feltfine
Specialising in Hand Painted B.F.L, Merino and Silk Yarns
Stocking the following yarns:
B.F.L. - Superwash, Sock, Lace, Aran and Pencil Roving.
Merino – 4 , 8 and 12 ply , Superwash.Blends with other fibres.
Mohair – White and coloured Boucle and Brushed .
Silk - Mulberry, white and dyed, Dyed Duke and Queen.
Eco Yarns – Camel, Qoperfina, Pakucho, Hemp, Muga and Eri Silk
Alpaca - Grown on our farm in Natural colours.
We are open at our Farm Shop whenever we are home, so call and drop by if passing to view our stock. We are also happy to visit your Guild meetings
---
Fibre Frolic

Fibre Frolic is Hawkesbury's newest yarn shop and is located at 83A Old Bells Line of Road, Kurrajong NSW.
We have a beautiful selection of Indie dyed yarns from around Australia as well as a selection of commercially produced yarns.
We also stock a selection of knitting and crochet accessories, patterns, kits and gifts.
We look forward to welcoming you in store and are open Tuesday to Sunday 9am to 4pm. Our online store is always open.
Our beautiful little shop is attached to the Village Kitchen Café making it a great destination for a day out with fabulous yarn not to mention a delicious coffee, breakfast or lunch.

Contact: This email address is being protected from spambots. You need JavaScript enabled to view it.
Website: www.fibrefrolic.com.au
Facebook: www.facebook.com/Fibrefrolic
Instagram: www.instagram.com/Fibrefrolic
---
GlenheavenKnits
GlenheavenKnits - dye it beautiful - a fabulous range of hand dyed and hand painted yarns for the discerning knitter. Home Grown and from across the seas, GlenheavenKnits has something to suit all tastes. Enjoy free domestic shipping and complimentary winding service when requested at checkout. Normally dispatched within 24 hours.
Market Stall: Normally last Sunday of the month at The Hills Upmarket at Castle Hill Pony Club, Gilbert Road, Castle Hill, Sydney NSW

Contact: This email address is being protected from spambots. You need JavaScript enabled to view it.
Etsy: www.etsy.com/au/shop/glenheavenknits
Facebook: www.facebook.com/glenheavenknits
Instagram: www.instagram.com/glenheavenknits
Ravelry: www.ravelry.com/people/glenheavenknits
---
Glenora Weaving and Wool
P.O. Box 9
Gerringong 2534
Ph/Fax: (02) 4234 0422

Website: www.GlenoraWeaving.com.au
The Mail Order Specialists. Weaving yarn for knitters! Extensive colour ranges of wool, cotton, linen, silk and alpaca yarns, felting and spinning fibres, weaving yarns and equipment. Free online catalogue available.
---
Great Southern Yarn
Great Southern Yarn is 100% Australian made from the highest quality SRS Merino (non-mulesed) and alpaca fleece. Our yarns are luxuriously soft, a pleasure to knit with and wear and are available in natural, 25 hand-dyed colours and 12 variegated colours.
Contact: This email address is being protected from spambots. You need JavaScript enabled to view it.
Website: greatsouthernyarn.com
Facebook: www.facebook.com/Great-Southern-Yarn-110486630426247/
Instagram: www.instagram.com/greatsouthernyarn/
---
Hank and Pearl
Hank+ Pearl is a family owned business created to provide tools and bags for makers as well as carefully selected yarns. We make products we love and use ourselves. Bags and tool rolls are made ethically by trusted local Australian manufacturers. A background in fashion and a love of colour has driven the aesthetic of Hank+Pearl. We appreciate the simple joy of making something by hand.
Contact: This email address is being protected from spambots. You need JavaScript enabled to view it.
Website: https://hankandpearl.com
Facebook: hankandpearlstore
Instagram: www.instagram.com/hankandpearlstore
---
Hook and Co
I receive commissions from people to create crochet items ranging from baby blankets, to Amigurumi toys and also jumpers, cardigans and throws. I will also in the near future be importing yarn and crochet/knitting accessories from overseas. I also create and sell my own patterns.
Contact: This email address is being protected from spambots. You need JavaScript enabled to view it.
Website: www.hookandcocrochet.com
Facebook: facebook.com/suziecrochet/
Instagram: www.instagram.com/suziecreatescrochet/
---
The House of Wool
Specialising in hand spun and hand dyed yarns, quality commercial yarns, accessories, and fibres for spinning and felting.
Hours: Monday and Thursday 10 am to 3 pm
Hours: Friday to Sunday 10 am – 4 pm
1/142 Leura Mall
Leura NSW 2780
0409 458 901
Contact:This email address is being protected from spambots. You need JavaScript enabled to view it.
Web: www.thehouseofwool.com.au
---
Hunter Valley Wool Store
The Hunter Valley Wool Store is located in the heart of the Hunter Valley in Singleton, NSW. We are a bricks and mortar shop as well as an online store. Yarn brands include Rowan, The Fibre Company, Ridgetop Fibre Studio, Jo Sharp and many more in weights from lace to bulky. Friendly support is available either online, in person or over the phone.
56 Brigadier Hammett Road
Wattle Ponds NSW 2330
Phone: 0418 230 498
Contact: This email address is being protected from spambots. You need JavaScript enabled to view it.
Website: www.huntervalleywoolstore.com.au
Facebook: www.facebook.com/huntervalleywoolstore
Instagram: www.instagram.com/huntervalleywool
---
I Wool Knit
We stock beautiful quality knitting yarns, needles and accessories from Australia and Europe. Be inspired by our collection of knitting and crochet patterns and Rebecca knit kits.
Fast and secure shipping Australia-wide.
Free local pick-up (Wamboin) and friendly advice available - get in touch via email at This email address is being protected from spambots. You need JavaScript enabled to view it.
Contact: This email address is being protected from spambots. You need JavaScript enabled to view it.
Web: www.iwoolknit.com.au
---
Jeannie Love Yarns

Our focus is on natural and unusual fibres including Australian merino, alpaca, cashmere, silk, mohair, cotton, linen, possum and papyrus to name a few. Our yarns are sourced both locally and internationally and we are dedicated to bringing you not only luxury yarns from overseas but also to support our local producers with yarns grown, spun and dyed right here in Australia.
165a Eastern Valley Way
Middle Cove NSW 2068
Phone: 0435 374 344
Contact: This email address is being protected from spambots. You need JavaScript enabled to view it.
Website: www.jeannieloveyarns.com
---
Jokamamo Textiles

Sumptuous hand dyed merino, silk, BFL and cashmere yarns. We have a selection of self- striping yarns both ready to ship and as dye to order. Matching mini skeins are also available. Enjoy complimentary winding service, just note it on your order at check out. Orders usually despatched within 24 hours (except dye to order).We also have a selection of quirky, fun knitting knitting/crochet bags, perfect for those projects on the go.
Contact: This email address is being protected from spambots. You need JavaScript enabled to view it.
Website: www.jokamamotextiles.com
Facebook: jokamamotextilesau
Instagram: jokamamotextiles
Ravelry: ravelry.com/people/Jokamamo
---
Kaalund Yarns
Kaalund Yarns manufactures in Australia luxury knitting yarns, crochet yarns and felting supplies. Our range includes art and bulky yarns, rovings and batts produced from Australian wool and Australian alpaca. Products can be purchased online or from select local yarn stores.
Contact: This email address is being protected from spambots. You need JavaScript enabled to view it.
---
Lyrebird Yarns
Lyrebird Yarns is Helen Keenan, a fibre artist based in the beautiful Blue Mountains west of Sydney, NSW, where she lives with her two small rescue dogs. She has been spinning since 2013, and selling yarns at markets and festivals since 2017. All the yarns are one-off designs, made from locally sourced fibre where possible.
I only source high quality fibres from sources I know. Yarns won't break, or have breaks or knots in them. Where there is more than one skein, this will be noted on the item. Yarns and fibres are tested for colour-fastness before being offered for sale, although there may be slight colour bleed in the first few washes. I always recommend a gentle hand-wash in cool water separate to other items.
Shawl pins are made from polymer clay, with the stick made from 3.25mm bamboo knitting needles. They can be used for shawls, or as accessories on knitted garments or even as hair accessories.
Contact: This email address is being protected from spambots. You need JavaScript enabled to view it.
Web: https://www.lyrebirdyarns.com
---
Marlyn Alpaca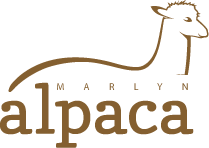 2 Derribong Place
Thornleigh NSW 2120
Ph: (02) 9481 0949
Contact: This email address is being protected from spambots. You need JavaScript enabled to view it.
www.marlynalpaca.com.au
Marlyn Alpaca is Australian Grown. It is then processed in Australia in a mini-mill devoted exclusively to Alpaca. Retailing and wholesaling a range of attractive, naturally coloured alpaca fibre products for use by home knitters and craftspeople with an eye for the luxurious.
---
Sip Knit yarn
SipKnitYarn - The Home of Hand-knitted Rugs
* Knitting Pattern Books for Rugs
* Downloadable Rug Patterns
* Rug Making Kits
* Rotating Yarn Butlers
* Knitting Accessories
* Hand-knitted Pure Wool Rugs
54 Merindah Road,Baulkham Hills 2153.
Contact: This email address is being protected from spambots. You need JavaScript enabled to view it.
Web: sipknityarn.com
Facebook: www.facebook.com/sipknityarn
---
Skein Sisters
Skein Sisters is Sydney's destination yarn store supplying a diverse range of fabulous yarn, accessories and classes to inspire Sydney's crafting community. Stockists of Hedgehog Fibres, Blacker Yarns, Shibui, The Fibre Co, White Gum Wool, Adagio Mills, Fyberspates, Sweet Georgia and many more, plus Chiaogoo and HiyaHiya needles.
Visit us at
721 New Canterbury Rd
Dulwich Hill NSW 2203
Australia
Email: This email address is being protected from spambots. You need JavaScript enabled to view it.
Web: www.skeinsisters.com.au
Phone: (02) 9554 7444
---
Skip Rope Yarn co
Skip Rope Yarn Co. delivers hand dyed yarns for the fun seekers, dream chasers and colour lovers. Launched in October 2020 and based in Newcastle, our yarn range is super soft, vividly bright and a little magical.
Contact: www.skipropeyarnco.com.au/pages/contact-us
Web: www.skipropeyarnco.com.au
Instagram: www.instagram.com/skipropeyarnco
---
Spunout Fibres
First established in 2002 and located at Hill End NSW, Spunout Fibres specialises in the supply of natural coloured fleece and fibre, tops and yarns made from coloured sheep and alpacas raised on our property. We also supply hand dyed yarns and an extensive range of craft supplies, including Ashford Spinning Wheels and Kraftcolour Dyes for knitters, spinners, weavers and felters.
Contact: This email address is being protected from spambots. You need JavaScript enabled to view it.
Website: spunoutfibres.com.au
Facebook: www.facebook.com/spunoutfibres
"Silent Dale"
3350 Hill End Road Hill
Hill End NSW
Phone: 0409 823 045 (Ann)
---
Virginia Farm Woolworks
Located in Sydney, Virginia Farm offers everything for the handspinner, felter and weaver. Spinning Wheels from Majacraft, Ashford and Kromski, accessories, carding equipment, looms, dyes. Merino & Corriedale wool tops in natural and dyed colours, silks, selected fleeces and blended fibres. We also conduct spinning classes, social weaving and spinning groups and weekend workshops in fibre crafts. We welcome enquiries.
9 Serina Avenue
Castle Hill NSW 2154
Phone: 0448 866 789
Contact: This email address is being protected from spambots. You need JavaScript enabled to view it.
Web: www.virginiafarmwoolworks.com.au
---
Waratah Fibres and Yarns
Specialising in hand dyed fibre and yarn for textile artists. Workshops in skein painting. Open day 1st Tuesday of the month. Open by appointment. Discount to Guild members.
Helen Rippin
Rippindale, 28 Gullies Road
Bundanoon NSW 2578
Ph: (02) 4883 6138
Contact: This email address is being protected from spambots. You need JavaScript enabled to view it.
Web: www.waratahfibres.com.au
---
Wool 2 Yarn
Wool 2 Yarn is a small bespoke textile mill based on the Mornington Peninsula. We make luxuriously soft alpaca yarn and modern fashionable garments from the fleece of our own alpaca herd. Australian Spun and Australian Made.
21 Virginia Street
Mornington VIC 3931
Contact: This email address is being protected from spambots. You need JavaScript enabled to view it.
Facebook: Wool-2-Yarn
Instagram: @wool2yarn
Web: wool2yarn.com.au
---
The Wool Inn
Shop 14, N & K Centre
450 High Street
Penrith NSW 2750
Ph: (02) 4732 2201
Contact: This email address is being protected from spambots. You need JavaScript enabled to view it.
Website: www.the-wool-inn.com.au
Facebook:www.facebook.com/TheWoolInn
Instagram: www.instagram.com/TheWoolInn
Trading for over 40 years, The Wool Inn is well known for stocking a wide range of classic to high fashion yarns. Suppliers include: Katia, Patons, Schoppel, Cleckheaton, Lang, Malabrigo, Naturally, Rowan, Filatura Di Crosa, Noro, Shepherd, Heirloom, Sirdar, Panda and Juniper Moon. Bags and accessories from: Addi, Birch, Clover, DMC, Handeze, KnitPro and Ashford. 10% discount to all current Knitters Guild members. Group visits welcome.
---
Woolshed@Manuka
At the Woolshed we welcome everyone, and share our passion for both knitting and crochet, providing genuine customer service. We love natural fibres for their beauty, adaptability and individual qualities.
Supporting other small businesses who supply specialty yarns and accessories to provide customers with something truly unique. Our shop also offers classes suitable for a range of skill levels
Shop 9, Manuka Court
11-17 Bougainville Street
Manuka ACT 2603
Phone: (02) 6295 0061
Contact: This email address is being protected from spambots. You need JavaScript enabled to view it.
Website: https://woolshed.com.au/
Facebook: www.facebook.com/WoolshedAtManuka
Instagram: www.instagram.com/woolshedmanuka/
---
The Yarn Bar

12 Chaffey Crescent
AINSLIE, ACT 2602
The Yarn Bar is an Australian on-line yarn business supplying beautiful yarns, knitting needles, crochet hooks, wool wash, tools and project bags. Some of our brands include Brown Sheep, Cascade, Zealana, Knoll, Fleece Artist, Juniper Moon Farn and Noro.
---
The YarnHub
www.theyarnhub.com.au
Ph: 0401 693 409
YarnHub (previously Rainbow Wools) is an online store supplying unique hand dyed wool and other gorgeous yarns. Our wool yarns are custom spun into beautiful textured yarns that will inspire your creativity. Popcorn, Raindrops and Cloud are our popular slub and boucle yarns that come in a range of hand dyed colours. They are now made from Australian Merino, spun in Italy and dyed by YarnHub owner Sue Walker. Our Australian spun merino in 8 and 12 ply is exceptional as is our range of New Zealand yarns from 4 ply to 20 ply. YarnHub caters for textile artists with a wide range of unique threads and yarns including paper, stainless steel, ramie and sari silk as well as linen fabric and industrial wool felt. Weaving looms, knitting needles, crochet hooks and dyes are also part of our range. YarnHub - textiles to inspire your creativity.
Yummy Yarn and Co
I stock all your favourite yarns such as Patons, Cleckheaton, Panda, Debbie Bliss, Noro, Heirloom, DMC, Vinnis Colours Nikkim, KPC Yarn, Lily Sugar 'n Cream
Rear 138 Macquarie St
Dubbo NSW 2830
Phone: 0431 754 909
Contact: This email address is being protected from spambots. You need JavaScript enabled to view it.
Website: www.yummyyarnandco.com.au
Facebook: www.facebook.com/Yummyyarnandco
Instagram: www.instagram.com/Yummyyarnandco